Skip to Content
BASEMENT FLOODING 101: CAUSES, COSTS, AND PREVENTION
BASEMENT FLOODING 101: CAUSES, COSTS, AND PREVENTION
Posted on Apr 7, 2016 11:45am CDT
Basement flooding is a real concern for homeowners in Baltimore. If you're new to the area or lucky enough to have never experienced basement flooding before, you might have questions about the causes of basement flooding, the cost to repair a flooded basement and ways to prevent basement flooding in the first place. Knowledge is power, especially when it comes to dealing with a flooded basement, so read on to learn more about some of the basics of basement flooding and basement waterproofing so you can be prepared in the event of flooding or water damage downstairs.
Causes of Basement Flooding
There are lots of reasons why your basement can flood; fortunately, almost all of them are preventable (more on that later). As far as the most common causes of basement flooding, poor drainage is at or near the top of the list. If rain and flood water does not have a clear path away from your home, it's almost unavoidable that it will find its way into your basement. Not having a sump pump is another reasons for water in the basement. Plumbing emergencies are also common causes of basement flooding, especially in the wintertime when exposed basement pipes freeze and burst.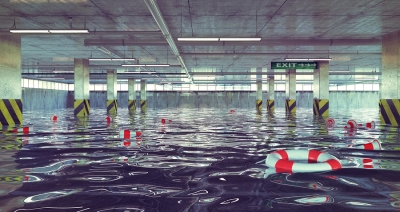 Cost to Repair Flooded Basement
The cost to repair a flooded basement depends on a number of different factors, including the extent of the damage as well as the steps that need to be taken to prevent basement flooding in the future. One thing you can be sure of, however, is that the initial cost to waterproof your basement before it floods will cost you much less than dealing with the resulting water damage and then having your basement waterproofed.
Ways to Prevent Basement Flooding
As far as what you can to prevent basement flooding, the easiest place to start is by making sure that any exposed plumbing in your basement is insulated to prevent burst pipes. If you don't have a sump pump, think about installing one as soon as possible to defend your basement against flooding. Also make sure that your gutter downspouts are clear and discharge water far enough away from the foundation of your home so as not to allow water to sink through. But the best thing you can do is contact a basement waterproofing company in Baltimore to provide you with a professional assessment of your waterproofing needs.