Skip to Content
Budget Basement Waterproofing
Experts in Basement and Crawlspace Waterproofing in Maryland for Over 30 Years
You are a 2022 Super Award Winner
Recipient of the Angie's List Super Service Award for 9 consecutive years!
Wet Basement? Budget Basement Waterproofing Can Help
Budget Basement Waterproofing has been the leader in basement waterproofing in Maryland for over 30 years. As your local leader in basement waterproofing, we offer numerous services to help keep your basement or crawlspace dry. Our knowledgeable and experienced technicians utilize the right tools no matter the size or scope of the basement project. Water in your basement can lead to numerous structural and health issues and should be removed immediately. When you work with us, we'll evaluate your basement and make the necessary recommendations to prevent water from entering it. As the recipient of the Angie's List Super Service Award for nine consecutive years, you can always count on our team to deliver the very best result. Contact us today to get started with your basement consultation.
Choose the Trusted Leader in Basement Waterproofing
With decades of combined experience in the basement waterproofing industry, our professionals understand the importance of helping to keep Maryland homeowners' basements dry. As a locally owned and operated business, we've helped hundreds of customers throughout the area. Our continual commitment to customer satisfaction has made us one of the most trustworthy basement waterproofing contractors. Discover why more people choose us for all their basement waterproofing services.
Over 55 Years of Combined Industry Experience
High-Quality Products and Materials
Locally Owned and Operated
A+ Rating With the BBB
Responsive Service
Affordable Prices
Award-Winning Basement Waterproofing Services
Whether you own an older home or new construction, it's important to waterproof the basement. Our comprehensive services will help prevent water from entering your basement, even if it's flooded before. Even without a flood, a damp or wet basement is still the ideal place for mildew to thrive. If left unaddressed, mildew can quickly spread to the main parts of your home. Learn more about the basement waterproofing services we provide and find the right one for your home:
Sump Pump Installation – Water is one of the most common threats to a home's basement. Up to 80% of homes will experience water damage. A properly installed sump pump will collect water and discharge it out and away from your home. We recommend sump pump installation whether you plan to finish your basement space or leave it unfinished.
Indoor Air Quality Solutions – Did you know that your home's indoor air is up to ten times more polluted than outside? A new E-Z Breathe® system can significantly improve the quality of your home's air while helping those with respiratory issues like asthma.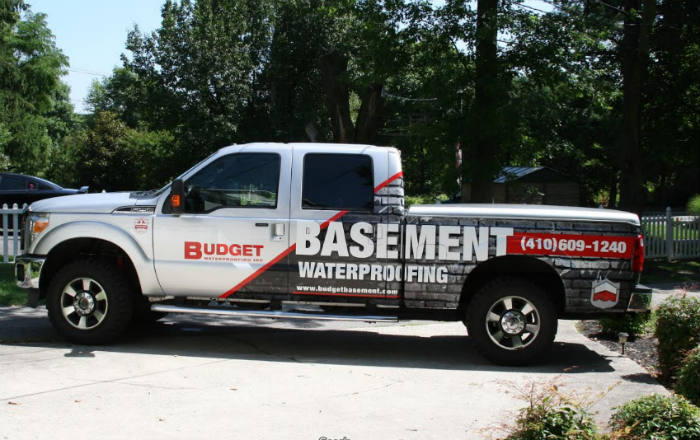 Budget Basement Waterproofing Is Your Local Leader
Homeowners throughout Maryland choose Budget Basement Waterproofing to protect their homes and family from the damaging effects of water in the basement. You can expect comprehensive and responsive service when you choose us to waterproof your basement or crawl space. Our team will arrive on time at your property and identify the common signs of water damage in your home. Next, we recommend waterproofing solutions to prevent water from penetrating your home. Once you've approved, we'll get to work immediately protecting your home from moisture. Every waterproofing plan is customized specifically to your home. Contact our team today to schedule your free in-home estimate.
Call us now for a free estimate!
Read Some of Our Customer Reviews
Budget Waterproofing did a really nice job installing my sump pump and waterjet backup system. Bill came out on time to provide an estimate and took the time to explain everything and answer all my questions thoroughly. The gentlemen who did the work were also on time and were courteous and really cleaned up the area well after the job was done. All in all, I am very satisfied with the service that Budget Waterproofing provided and I would use them again. Highly recommend!
We highly recommend Budget Waterproofing, Inc. They identified the problem with water leaking into the basement from groundwater sources and installed the drains and sump pump in a day's work, as promised. We have been amazed at how much water has been pumped, even before we had heavy rains. We no longer worry when we see forecasts for rain!
Received a detailed oral and written plan to correct a wet. The crew (Mario and Jose) came on time and worked hard and long for 2 days to execute the plan. They dug out the clay inside the poured concrete walls, installed drain pipes, filter cloth and gravel, a sump well and pump, an air ventilation system, patched a cracked wall, and installed a poly liner over the floor. They then cleaned up the basement. We are more than pleased with the work and the people we dealt with. These people care, and they run a business of which they can be proud. Buy with confidence!
I had a very positive experience with Budget Waterproofing. The Owner, Bill came out and gave me an estimate of what was needed for my damp / wet crawl space. An appointment was made to do the work. Their crew came on time and were very curtious & polite. They explained what they were going to do. Then went about doing it in a tough environment. They cleaned up after they were finished. Extremely satisfied!