Skip to Content
Egress Window Professional Installation in Maryland
If there is an emergency inside your home, your family needs a viable exit to be able to get outside immediately. That's where egress windows come in. If your home is not already equipped with these safety-enhancing windows in the appropriate places, the experts at Budget Waterproofing are here to provide expert egress window installation services.
What Are Egress Windows?
Egress windows are designed to permit a rapid exit from a building in the event of an emergency, such as a fire or flood. This type of window also allows emergency workers, such as firefighters, to enter a building with ease when necessary, promoting optimal security and efficiency.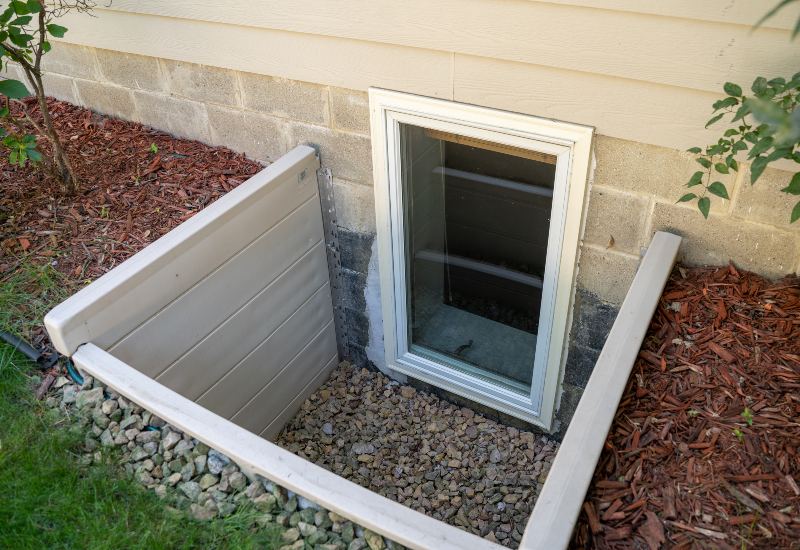 Egress Window Installation
As Maryland's leading basement experts, we understand the intricate details required to install seamless egress windows in any area of the home. Our installation process includes careful excavation, sealing, and waterproofing to ensure your home remains dry and comfortable. We use high-quality materials and ensure a secure fit so you can benefit from enhanced safety, longevity, and additional energy efficiency upon installation of your new egress windows.
Basement Egress Window Requirements
Maryland building codes mandate the requirements for basement egress windows. In Maryland, the requirements for basement windows include the following:
An opening width of 20 inches or more
An opening height of 24 inches or more
A net clear opening of 821 square inches or 5.7 square feet
A sill 44 inches or less above the floor
A below-ground-level window well with a horizontal projection of 36 inches
A permanently attached ladder if the well is deeper than 44 inches
Easy opening without the use of specialized knowledge or tools
Different Window Styles for Egress Windows
Egress windows allow for a fair share of customization, as you can choose from several window styles if they meet the requirements for egress windows. The size of the window is more important than the style. Therefore, if the sizing aligns with egress window conditions, it works!
The Advantages of Installing Egress Windows
Egress windows offer an array of benefits for homeowners, including:
Increased sunlight in your home
Increased home value
Enhanced safety
Promote ventilation
Contribute to a comfortable, dry basement
Choosing Basement Egress Windows
When it comes to choosing basement egress windows, you have two reliable options: casement or sliding windows. Casement windows are suitable for basements with limited wall space, functioning like a door using a rotating handle. Casement windows require eight square feet of opening.
Sliding windows are ideal for homeowners looking to add natural light to their more spacious basements. These windows are taller and wider, as they offer a narrower opening that slides horizontally. Sliding windows require 16 square feet of opening.
Trust Maryland's Premier Egress Window Experts
For more than half a century, Budget Basement Waterproofing has provided Maryland families with the essential services, including basement waterproofing, draining systems, crawl space waterproofing, and egress window installation, they need to protect their families and preserve the safety and integrity of their homes.
With a commitment to excellence and unwavering devotion to enhancing the security of homes in our community, Budget Waterproofing is Maryland's premier waterproofing and egress window service.
Schedule Your Egress Window Installation
Whether you're in the process of planning the build for your new home or looking to upgrade the safety features of your current home, Budget Waterproofing is here to help with high-quality egress window installation services. Contact us today to schedule your egress window consultation.
Call Today for Expert Basement Waterproofing Services!