Skip to Content
Radon Fan Installation in Maryland
Radon exposure is a serious concern, leading to chronic health conditions. To eliminate the potential hazards of this dangerous gas, Budget Waterproofing offers industry-leading radon mitigation system installation services that work to keep your home's radon levels low and your family safe.
What Is a Radon Mitigation System?
A radon mitigation system works to reduce indoor radon concentration in your home. The system operates to keep radon levels below the EPA action level of 4 pCi/L, with high-performing systems reducing the levels to 2 pCi/L or lower.
A radon mitigation system includes a high-powered fan that pulls air through the soil, venting it through a pipe to the outdoors. These pipes can be placed outside or inside the home, with outdoor vents that face away from windows and openings to prevent air from returning inside.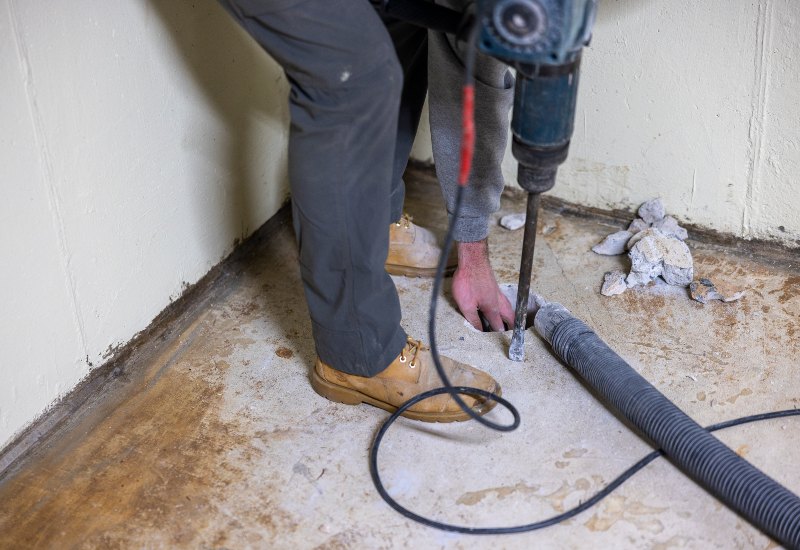 Our Radon Mitigation Installation Service in Maryland
Budget Basement Waterproofing offers industry-leading radon mitigation system installation performed by our fully licensed, insured professionals. Our radon technicians work alongside our clients to determine the best radon mitigation system solution for their home's unique needs based on an in-depth test to ensure accuracy. Ask us about our Free Home Test kit when you request a free estimate.  During the service, we seal any openings and install reliable radon mitigation systems that keep your home safe.
Common Types of Radon Mitigation Systems
There are three common types of radon mitigation systems to choose from, depending on the unique needs of your home. These radon mitigation systems include:
Sub-slab suction systems: This system pulls radon beneath the foundation of the home, venting it outdoors.
Drain tile suction systems: These systems are equipped with a pipe placed into the drain tile with covered sump baskets, venting the soil gases outside.
Sub-membrane: These systems are used for crawlspaces and include a crawlspace encapsulation covering that blanket exposed dirt and seals the wall. A radon pipe is pulled through a portion of the covering, enabling soil gas to exit the crawlspace to be vented outside.
Key Features of Radon Fan Systems
A radon mitigation system is comprised of several key components.
All radon mitigation system components will be provided by our experts.
The radon reduction system will be labeled to discourage accidental adjustments to the system that may result in malfunction.
A post-mitigation radon test will be conducted post-installation to confirm efficiency.
Operating and maintenance instructions, as well as manufacturer warranty copies, will be provided upon installation completion.
Our team's electrical permits if needed and complete papers will be available to you for added certainty and qualification.
Radon Fan Installation Process
The exact process of installing a radon fan may vary depending on the specifics of your system and home. However, the typical process includes making a hole and digging out a portion of the basement slab to accommodate a 3-inch pipe. We then run the pipe below floor and out of the home through the attic or through the basement or crawlspace wall to the ridge line of the roof, securing the joints, adding supporting straps, and sealing.
Once the bones of the system are in place, we will run the pipe to a fan placed in the attic or outside the wall that will run continuously. Insulation will be placed surrounding the pipe in attic to reduce condensation, and the outlet of the pipe will exit through the roof or to top of outside ridge of roof. A manometer will be installed to monitor the system, and finally, we will test the system to ensure maximum performance.
Maryland's Reputable Radon Fan Installation Professionals
Radon exposure can result in severe consequences, which is why it is essential to work with a reputable radon mitigation system installation company, such as Budget Waterproofing, to ensure your family is out of harm's way. Our professionals devote their undivided attention to ensuring all of our services are executed with the utmost precision and skill, ensuring our clients can achieve peace of mind and comfort for years to come.
Safeguard Your Home with Budget Waterproofing
If you suspect your home may be exposed to high levels of radon, or you are looking to invest in a precautionary measure to preserve the health and safety of your home, Budget Waterproofing is here to accommodate you with our radon mitigation system installation, as well as our various other expert home services. Contact us today to schedule your radon diagnostic test.
Call Today for Expert Basement Waterproofing Services!