Skip to Content
Basement Drainage Systems in Maryland
Trust Our Expert Basement Drainage Solutions
Many homeowners in Maryland have a home with a basement but may not understand the ins and outs of basement waterproofing and basement drainage systems. At Budget Basement Waterproofing, our team of experts specializes in protecting the foundations of homes through waterproofing and drainage system installation. We can determine what type of basement or foundation drainage system is right for your home and repair any existing damage to your walls, floors, or foundation. Call us today to learn more about our basement waterproofing solutions in Maryland.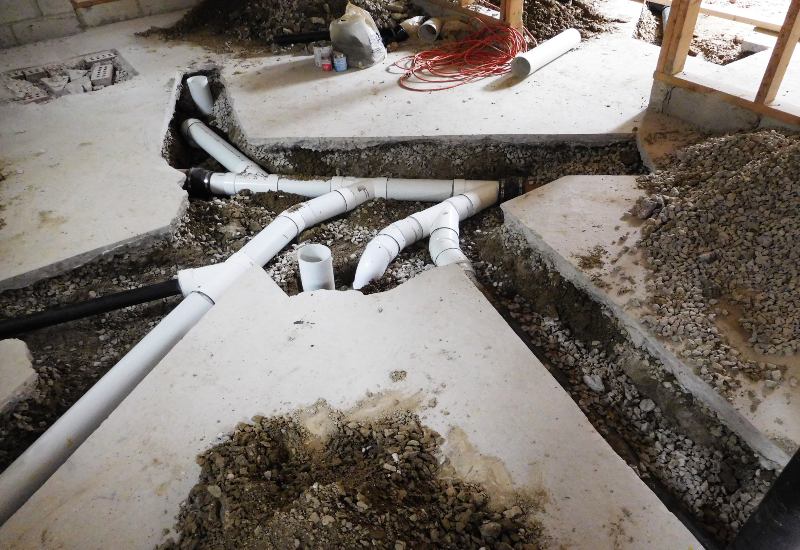 What Are Basement Drainage Systems?
A basement drainage system is a customized system designed to the specifications of your home. A basement drains or drainage system aims to keep your basement dry and protect everything in it from water damage. A flooded basement or water pooling around your home's foundation can cause cracks in your walls and foundation, bowing or uneven walls, damaged or warped flooring, structural instability, and mold and mildew growth. Most foundation and basement drainage systems can't prevent flooding, but they do mitigate the risk of standing water in your basement or around your foundation. The most common foundation and basement drainage solutions are exterior basement drains, interior French drains, floor drains, and sump pumps. Our experienced technicians will assess your home's architecture, condition, and foundation to determine the right drainage system for you.
Causes of Water Damage or Flooding in Basements
Many situations can lead to flooding in your basement or around your foundation, from a burst pipe to a heavy storm. If your basement floods frequently, you need to worry about water damage, mold and mildew, and structural problems. Crawl space or basement waterproofing can protect your home, along with a drainage system. Here are the most common causes of water damage or flooding in basements:
Your home was built in a flood-prone area, on a low-grading lot, or at the bottom of a hill.
Your pavement or landscaping slope directs water toward the home.
The sealant around the pavement is cracked or damaged.
Your home and/or basement has poor or no weatherproofing.
Your home has no drainage system or a poorly designed or installed drainage system.
Your gutters are clogged, overflowing, or damaged.
Your gutter downspouts have failed.
You have plumbing issues like a frozen pipe, water leaks, clogged fixture, or burst pipe.
There is a supply line leakage.
Your sump pump is broken.
The irrigation system is too close to your home.
Groundwater is causing hydrostatic pressure.
Signs You Need a basement or Foundation Drainage System
If you are aware of the early warning signs that you need a basement or foundation drainage system installed, our team can get it done before your home suffers from serious water damage. Our expert technicians will inspect your basement and foundation and check for signs of water leaks, water damage, and foundation damage. Call us today if you see any of these signs you need a foundation or basement drainage system installed:
Water puddles in the basement
Water stains on the floor or walls
Leaks from the floor or walls
Condensation on the basement windows or doors
Swelling or warped doors
A damp or musty smell that doesn't go away
Mold or mildew growth
Cracked floors or walls
Wet or chalky walls
Insect infestations
Our Basement & Foundation Drainage Solutions
The method we use for structural foundation repair depends on the cause of the damage, the extent of the damage, the condition of your home, the architecture of your home, and the weather and climate in your region.
French Drains – French drains are the most common basement drainage solution. This system is used to drive water away from the foundation and basement. We will dig a trench, fill the bottom with rocks or gravel, and then install perforated pipes to remove groundwater and surface water and direct it away from your home.
Curtain Drains – Curtain drains are best for pooling water in your yard that could cause flooding. To install curtain drains, we will create an underground trench that slopes downward and pulls water away from the home.
Exterior Drains – Exterior drain tiles can drain water from storms, overflowing gutters, and downspouts. These drains collect groundwater before they get into your home.
Floor Drains – The most basic type of basement drainage system is a basement drain installed in the floor. They capture overflowing water from plumbing systems so that it won't cause significant water damage. Outdoor drains absorb water from heavy rainstorms and quickly divert water away from surfaces.
Sump Pumps – A sump pump should be installed along with at least one of the above basement drainage solutions. A sump pump senses when water enters the basement or crawlspace and pumps the water up and out of your home. This prevents flooding and reduces the risk of water damage.
Why Choose Budget Basement Waterproofing for Basement Drains
At Budget Basement Waterproofing, we have provided exceptional residential and commercial home services in Maryland for over 30 years. We have assembled a team of extraordinary, skilled, and experienced technicians who are committed to helping each client improve their home's safety and structural stability. Our basement waterproofing and basement drainage solutions can significantly lower your risk of flooding, water damage, and structural or foundational issues. Our locally owned and operated business uses only the highest quality products and materials at the most affordable prices in the industry.
Schedule a Consultation for a Quality Drainage System
Call us today or contact us online to schedule a consultation for a custom drainage system. We specialize in basement waterproofing, foundation repair, basement drains, and sump pump installation. Our team excels at quality workmanship, effective and affordable basement drainage solutions, and exceptional customer service. Install a basement or foundation drainage system today to protect your home's comfort, value, and safety.
Call Today for Expert Basement Waterproofing Services!