Skip to Content
Foundation Repair in Maryland
Professional Foundation Repair & Basement Structural Repair
At Budget Basement Waterproofing, our goal is to help our clients protect their homes' safety, comfort, and value. Flooding and water damage can cause significant structural issues with foundations and basements. We offer professional, comprehensive basement waterproofing solutions, foundation repair, and basement structural repair in Maryland. Our team has extensive experience in basement crack repair, basement foundation repair, and basement and crawlspace waterproofing. Our services will enhance the structural integrity of your home so that you're less likely to experience serious foundational problems or extensive water damage. Call us today to schedule a consultation for waterproofing or foundation repair.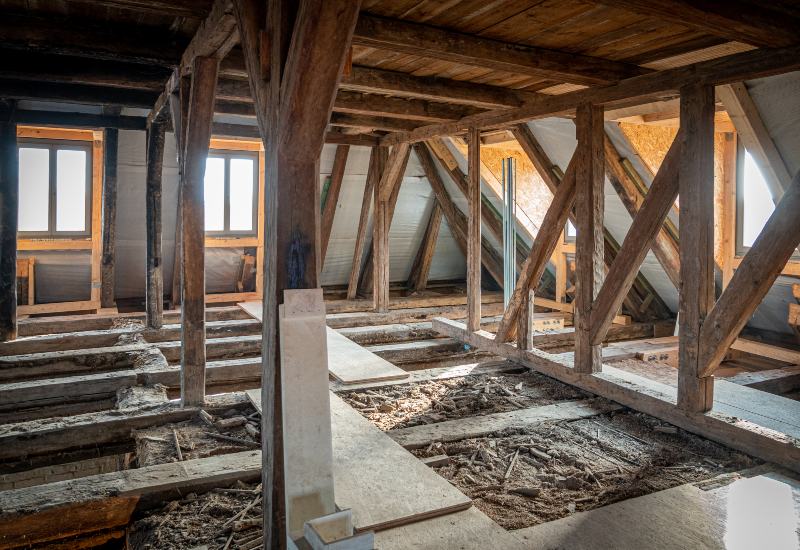 What Is Basement Structural Repair?
Every home has a foundation. A foundation is the load-bearing part of the home, built below ground, which supports the home above, keeps groundwater out, and acts as a water and vapor barrier. If your home has a basement foundation, you need extra protection from water damage and flooding. Our team is dedicated to helping homeowners understand when they need foundation repair, basement structural repair, and basement waterproofing or crawlspace waterproofing. These services protect you from foundation failure and ensure your home remains safe and structurally sound.
Common Causes of Structural Damage in Basements
Knowing the underlying cause of structural damage in your basement will help our team ensure the problem doesn't reoccur. There are a few different issues that can cause cracks, water damage, and structural problems in a basement or crawlspace:
Differential Settlement – After your home is built, it may settle slightly into the soil beneath the foundation, called uniform settlement. Differential settlement occurs when different sections of your home settle at different rates or to different degrees. This can cause foundation cracks and bowing, leaning, and sheering of the foundation walls.
Soil Expansion – Expansive soil is soil that expands and shrinks based on moisture content. As the soil gets wet, it expands and then shrinks as it dries again. This cycle puts repetitive stress on the foundation walls of your basement, which can cause them to crack, lean, sheer, or bow.
Hydrostatic Pressure – Water damage or flooding that reaches your basement foundation can cause hydrostatic pressure. When water builds up or pools at the foundation, the soil volume increases, putting added pressure against the walls.
Frost-heave – Frost-heave occurs when the soil freezes and rises. When the soil thaws, it settles down again. This repetitive up-and-down movement causes basement foundation walls to bow, sheer, crack, or lean.
Signs You Need Basement Foundation Repair
It's important to know the signs of structural damage in your basement. If you catch the early warning signs, we can provide swift structural foundation repair before the issue gets bigger and more expensive. Call us today to schedule a consultation for basement and foundation repair if you notice any of these issues:
Multiple doors and windows that are sticking won't close properly or are hard to open.
Uneven, bowed, or sunken flooring.
Cracked flooring, particularly cracks that run from one wall to another.
Walls that are bowing or cracking, leaning, or sheering.
Floors and walls are separating, even slightly.
Tearing wallpaper (this occurs due to cracks in the walls beneath the wallpaper).
Walls that are rotating.
Diagonal cracks that run from the corners of doors or windows up to your ceiling.
Separated moldings.
Stair-step cracks in brick or concrete walls.
The porch or chimney is separating from the rest of the home.
Our Method for Structural Foundation Repair
The method we use for structural foundation repair depends on the cause of the damage, the extent of the damage, the condition of your home, the architecture of your home, and the weather and climate in your region.
Wall Repair – We can use a few different methods of wall repair depending on the size, type, and cause of the cracks. We may use wall plate anchors, Invisible carbon fiber straps, or helical tieback anchors for bowing walls. For sheering walls, we will use c-channel anchors.
Basement Crack Repair – We will thoroughly inspect the crack and its cause to find the best solution. Our repair method will stabilize your home's foundation and reduce your risk of future problems. We typically use carbon fiber staples fused into place with an epoxy crack injection. This waterproofs and reinforces your basement crack repair.
Settlement Repair – If your structural problems are caused by settlement, we will recommend steel push piers or helical piers. Steel push piers counter sinking basement foundations. We install them deep in the soil under the basement and then use hydraulic jacks to lift the basement foundation back to its maximum practical level. Helical piers or screw piles are twisted into the ground until we find load-bearing soil. Then we use hydraulic jacks to lift the foundation back up.
Why Choose Budget Basement Waterproofing
Our team at Budget Basement Waterproofing has over 55 years of combined experience providing services to commercial and residential customers. We have the knowledge, tools, and expertise needed to successfully assess, prevent, and repair foundation problems of any type or size. Our goal is to determine the underlying cause of foundational issues so that we can prevent them from happening again and find the most effective solution. We specialize in basement and crawlspace waterproofing, foundation and basement crack repair, crawlspace encapsulation, and sump pump installation.
Schedule a Consultation for Basement & Foundation Repair
Call us today to schedule a consultation for basement or crawlspace waterproofing or basement foundation crack repairs in Maryland. Our experienced, reliable team will work hard to restore your home's stability, function, and safety. We offer free estimates, convenient financing options, and senior citizen discounts. Contact us today to improve the safety and comfort of your home.
Call Today for Expert Basement Waterproofing Services!