Skip to Content
7 SUCCESS TIPS FOR BASEMENT SPRING CLEANING
7 SUCCESS TIPS FOR BASEMENT SPRING CLEANING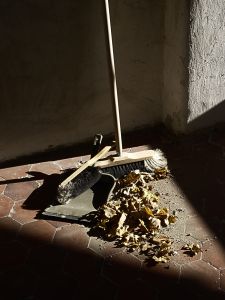 If you are like many Americans, your basement is probably full of seasonal décor items, gym equipment, rarely used appliances, tools, gardening supplies and maybe even books and family keepsakes.There is nothing wrong with it, but if after the years of piling things up you started to run out of space or if finding what you are looking for became impossible, it might be the time for a major cleanup. And what is a better time for cleaning and organizing than spring?Budget Waterproofing of Baltimore is here to lend you a hand, so to speak, by guiding you through some basement spring cleaning.
Manage your time wisely
First, mentally and physically prepare to spend at least half a day down in the basement. Choose a day when you don't have to go anywhere and can devote all your time to this project. Thinking you can be done in an hour is a big mistake and a sure way to have this cleanup dragging for weeks.
Also, avoid wasting time on sentiments. We've all been there: you find an old photo album and there it goes – 40 minutes lost just flipping through the pages and reminiscing on good old days. Never forget that your objective is to clean – once it's completed, you can always go back and revisit this album (because now it's easy to find).
Suit up
You never know what could be lurking in your basement, especially if you haven't cleaned it for years. Just to be on the safe side:
Wear clothes you don't mind getting dirty, preferably items that cover your arms and legs.
Put a face mask on to protect yourself from dust, allergens and mold spores.
Have goggles at hand if it gets really dusty.
Don't walk in an unfinished basement barefoot – put on closed-toe shoes.
Have a pair of rubber gloves handy in case you come across something nasty.
Provide sufficient lighting
You will need to see what you are doing, so start the cleanup by washing the windows if you have any in your basement. Clean both sides and enjoy the sunlight. If there's still not enough light, bring down a few lamps and plug them in. Also, check on the light bulbs in your current fixtures – they might benefit from wiping.
Identify the elephants in the room
Look around in your basement and note individual items that take up the most space. Chances are, it is an old couch you don't have the room for or a piece of gym equipment no one used in the past 5 years. Now is a good time to reevaluate your possessions. Some of them you may no longer need (as proven by the years of collecting dust in the basement.) Sell, donate, or toss old items you don't have a use for. This will help you free up some space for more important stuff.
What doesn't belong here?
Sometimes, odd things end up in your basement: toys left by kids and forgotten, empty detergent bottles meant for recycling or some stuff you just tossed in there to get it out of sight. Quickly scan your basement to identify these items and bring them back where they belong: upstairs, in the garage, in the laundry room or a storage shed.
Some of the things that don't belong in your basement are broken items. You might have kept them with the intention to fix, but let's face it: it's not happening. So either get them fixed ASAP or dump them at one of the recycling facilities around Maryland – at least you'll be helping Mother Nature.
Sort and Declutter
This is where the dusty part comes in – sorting through the bottomless boxes of stuff. We've covered how to effectively declutter your basement in one of our previous posts, so feel free to refer to it. The most important thing is to stay focused and come up with your own system of how you want to organize things. An extra Ethernet cable can go into a box with "wires" or classified under "computer stuff." It's all up to you. If you need help choosing the best storage containers and labeling system, we have an article discussing that as well.
It's time to clean
Now that you have all the containers neatly stacked, you can actually clean the basement. Vacuum up any loose debris from the floors, as well as cobwebs in the corners and on the ceiling. You can mop the floors with soapy water, but be sure to run a dehumidifier to help with drying. Wipe the dust off of the shelving units and freestanding containers.
Basement spring cleaning gives you a chance to get familiar with your basement and determine if it has any problems, such as mold or water issues. While moving the boxes around, look in every crevice and note any wet spots or water damage on your items. Don't panic if you find a leak – there's no issue our Baltimore basement waterproofing pros can't fix. Just give us a call at 410-609-1240 and we'll help make your basement, not just neat and organized, but also leak- and mold-free.