Skip to Content
Where the Water in your Crawlspace Comes From
After a heavy rain, you might not be surprised to find water in your crawlspace. And even if it hasn't been raining, it might not seem like a big deal to you if your crawl space is damp. It's not an ideal situation, though, because a damp crawl space can lead to a host of homeowner headaches, from pests to mold to structural damage. If your crawl space is damp, it's important to figure out why, so that you can fix the problem and keep it dry.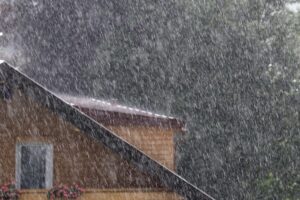 Let's look at some common reasons for moisture in the crawl space.
It could be surface water. If your crawl space gets wet when it rains, it could be from roof drainage, overflowing gutters, or leaky basement windows and window wells. Those issues are fairly simple to fix, by repairing a leak, improving drainage, or cleaning out the gutters. It could also be that your yard is improperly graded. To prevent water in your crawl space and damage to your foundation, your yard must slope away from your home rather than towards it. If it's sloping towards your house, the grading must be built up to a level that diverts water away from the foundation.
Groundwater can also cause problems. Maybe rain or snow has saturated the soil around the foundation and is making its way into the house. It could be that the water table has risen significantly and is pushing water into your crawl space. Another problem that sometimes happens is that a city water line breaks and sends water under your house. In that case, the city would need to come fix the line, but you'd still be responsible for paying for any damage to your home.
Sometimes the water is coming from inside the house. Leaky or burst pipes can send water into the crawl space, and drainpipes sometimes get clogged and back up into the crawl space. A plumber is a solution in this case. That can be good news because plumbing repair is often less expensive than more serious groundwater issues.
Humidity can cause a damp crawl space. It could be as simple as water transferring from the ground to the crawl space. If your crawl space is inadequately ventilated and isn't sealed, you might find mold and mildew on the wooden framing of your house.
So, what do you do about a wet crawl space? If it's a flooding situation, you call your insurance company, turn off the electricity in the lower levels of your home, and document any damage with photos. Then you either call a professional to remove the water, or you do it yourself. If you decide to go the DIY route, here are the steps to take:
Get rid of damaged belongings, disposing of wet materials like insulation as well.
Pump out the floodwater, either with a sump pump or another pump.
Finish getting the water out, using a wet vac.
Use fans and dehumidifiers to dry out the area, letting the equipment run for at least three days.
Be careful to plug all of the equipment you're using into heavy-duty extension cords that are plugged in above the crawl space.
Inspect for and deal with any mold or fungal growth.
Doing it yourself is not always the best option, though, for several reasons. First of all, it's a hassle to get all of that equipment in and out of a small space. Also, the water in your crawl space is probably contaminated with insect and animal debris, along with mold and damaged building materials. By doing it yourself, you're risking safety and health hazards unnecessarily.
So, what's the best way to deal with water in your crawl space? Prevent it from ever getting in there in the first place. Moisture in your crawl space can cause rot and mold in the structure of your home, and attract pests. Think it's not a problem because it's just the space under your house? Think again. About 50 percent of the air inside your home comes from below, which means that mold spores, musty smells, and humid air is going to make its way from a damp crawl space into your living areas. What's more, when your crawl space is unsealed, it will raise your energy bills, because damp air requires more energy to heat and cool it.
To keep the crawl space dry, start with a dehumidifier and a sump pump system. Pumping excess water out of your crawl space and removing moisture from the air will go a long way toward ridding your home of mold, dust mites, termites, and other pests, and could save you as much as 15 to 25 percent on your heating and cooling costs. Perhaps the best way to keep your crawl space dry, however, is to seal it. When you hire a professional basement waterproofing company to encapsulate your crawl space, you'll be preventing moisture from ever making its way into your basement.
When you're ready to waterproof your crawl space, Budget Waterproofing provides waterproofing, mold remediation, mold cleaning, and crawl space encapsulation. In addition to standard crawl space encapsulation, we offer crawl space vapor barrier installations. At Budget Waterproofing, we've got more than 55 years of experience servicing both commercial and residential customers throughout Maryland. We're proud of our craftsmanship and confident in our skills, and all of our technicians are fully licensed and insured. Whether you need basement waterproofing, a drainage system, crawl space waterproofing, or egress window installation, we've got you covered, with the experience and skills necessary to improve your basement and protect your family. For more information, contact us today.