Skip to Content
Tips for Staying Warm and Enjoying Your Basement This Winter
In the winter, we tend to give our homes a good onceover, making sure everything is weather-tight and ready to withstand whatever the colder months bring. From the roof to the floors, we inspect our homes to make sure they're ready for winter. But what about the basement? If you're neglecting your basement when you are winter-proofing your home, you're likely to end up with an unpleasant or even unusable space by winter's end. Fortunately, we've got some tips to keep your basement warm, safe, and dry all winter long.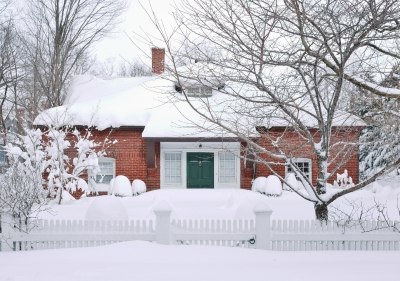 Mind the mold and mildew. Basements are the perfect places for mold and mildew to grow because they tend to be damp and lack sunlight. If you're not paying attention, mold and mildew can grow quickly without you even noticing them. When they get into your carpet, clothing, furniture, and walls, mold and mildew can be nearly impossible to eradicate. Catching them early can help you keep them at bay; keeping your basement warm and dry can provide protection.
Be wary of water. Damp basements are prone to mold and mildew, but that's hardly the only water-related concern. Water can get into your basement in various ways, whether through weaknesses in the foundation, groundwater seeping through the walls, melted snow, runoff from the eaves, or faulty plumbing. If you have a sump pump, the discharge line can freeze and cause water to back up and flood the basement. Water in your basement can damage your floors and carpets. It can also interfere with your electrical system, causing power outages and damage to appliances. Worse, water or even moisture that gets into cracks, holes, and pockets of the concrete that makes up your foundation, it can enlarge those cracks and holes. As temperatures fluctuate and water freezes and melts, it can cause serious damage to your foundation, threatening your home's structural integrity. A damaged foundation can shift, causing damage to doors, window frames, floors, and even walls.
Protect the pipes. The last thing you need in the middle of winter is a burst pipe in your basement. To keep them from freezing, cover them with insulation or heat tape. You can even use pool noodles as a do-it-yourself insulation measure. Turn off outdoor faucets and make sure they're completely drained, and if the temperatures will go below freezing in your area, leave water dripping overnight to keep your pipes warm.
Check for cracks. Foundations typically have cracks. They're not much of a problem if they're just small, but as previously mentioned, winter can cause water in those cracks to create instability in your foundation. Settling and shifting in your foundation can be problematic for the entire house and can also cause cracks in the basement floor and walls. Part of protecting your foundation is ensuring that the earth around it slopes away from it so that water won't pool and cause damage. Inspect your foundation before winter weather hits and take care of any cracks or other foundation issues that could cause problems. While you're at it, look all around your home, checking for cracks and other openings in the outside of the house. You don't want cold air and moisture to come into your home and damage your basement. Make your home weatherproof before winter causes a problem.
Have a look at your heater. Before the winter gets too cold, call in a professional HVAC technician to perform a thorough inspection. By inspecting the entire system, the technician can ensure that all the pipes, filters, and moving parts are working effectively and the heating system will perform well throughout the winter months. If your HVAC is in the basement, it's especially important to have this inspection completed, because you might not notice any problems with the system before they become major issues. Keeping your heater in good shape is another part of preparing your basement and the rest of your house for winter.
Whether it's a fully finished room or an unfinished storage space, the first step towards enjoying your basement is maintaining a basement that's clean and dry. When you need help achieving your basement's full potential, Budget Waterproofing can help. In addition to basement waterproofing, mold remediation, mold cleaning, and crawl space encapsulation, we provide foundation repair, going beyond patching cracks to find the source of the problem. We also offer installation of the EZ Breathe home ventilation system, to clean the air inside your home. At Budget Waterproofing, we've got more than 55 years of experience servicing both commercial and residential customers throughout Maryland. We're proud of our craftsmanship and confident in our skills, and all of our technicians are fully licensed and insured. We also hold an A* rating with the Better Business Bureau of Maryland and serve as a member of the Maryland Multi-Housing Association. Whether you need foundation repair, basement waterproofing, a drainage system, crawl space waterproofing, or egress window installation, we've got you covered, with the experience and skills necessary to improve your basement and protect your family. For more information, contact us today.