Skip to Content
Dehumidifiers Installation in Maryland
Professional Dehumidifier Installation
Installing a whole-house dehumidifier or crawl space dehumidifier can remove harmful condensation and humidity from your home. Humidity can cause water damage, mold and mildew growth, wood rot, structural issues, and other health and safety problems. Installing a residential humidifier will save you money in the long term because you'll prevent other serious issues from developing. At Budget Basement Waterproofing, we can install dehumidifiers in Maryland and the surrounding area. Our whole-house dehumidifier installations will make your home safer and more comfortable and increase its value. Call us today or contact us online to request a free estimate for the cost of dehumidifier installation.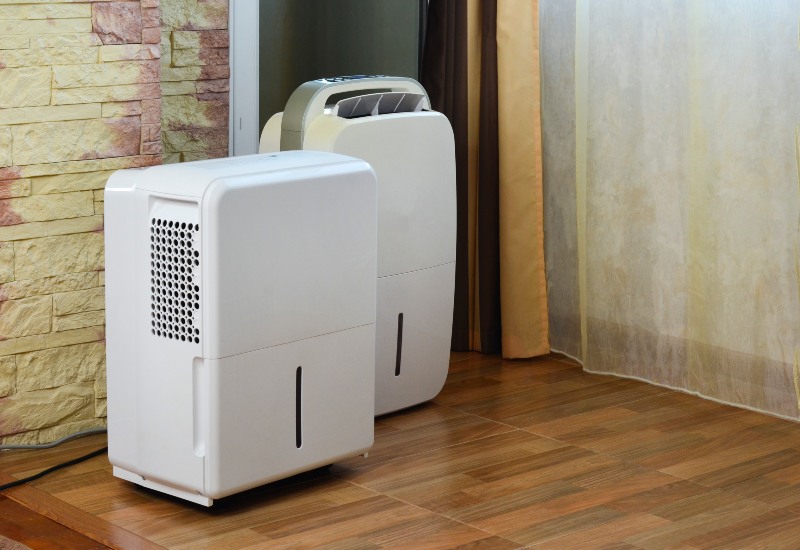 What Do Dehumidifiers Do?
 A dehumidifier uses à fan to draw warm hair into its coils. These refrigerated coils trap and collect condensation inside so that when the air is released back into your home through the other side of the machine, it is cooler and drier. A whole-house dehumidifier installation can reduce your home's humidity levels by 30-50%.
What Are Whole-House Dehumidifiers?
 A whole-house dehumidifier reduces indoor humidity levels throughout the home rather than just one or two rooms. A portable dehumidifier can be moved from room to room but isn't as effective as a long-term solution for humidity and condensation issues as the humidity levels of the room it isn't in will continue to rise each hour. A whole-house dehumidifier installation in your home's basement or crawl space will protect the aesthetics of your home and reduce noise levels. It is much less intrusive than a portable dehumidifier, and it's more effective, lasts longer, and increases the comfort and value of your home. Each room in your home will be more comfortable, and it will be easier to keep at a cooler temperature. Your home will also be protected from moisture, condensation, and water damage.
How Can a Residential Dehumidifier Help You?
A residential dehumidifier installation offers so many benefits that it ends up paying for itself in the long term:
Reduce odors from pets, smoke, and cooking
Prevent mold, mildew, and algae growth
Reduce dust and allergens, including pollen, mold and mildew, pet dander, and dust mites
Reduce allergy and asthma symptoms
Lower your risk of respiratory problems
Reduce energy costs as your home's heating and cooling system will run more efficiently
Keep your home at a more comfortable temperature
Prevent humidity damage to artwork, instruments, electronics, LPs, collectibles, rugs, and textiles, and more
What to Expect from the Dehumidifier Installation Process?
Before we begin the dehumidifier installation process, we evaluate your home to assess your needs and determine if you would benefit more from a whole-house dehumidifier installation or a dehumidifier installation in your crawl space or basement. We can install a whole-house dehumidifier in your attic or under your home so that it won't detract from the aesthetics of your home, and you won't be bothered by the noise. We'll determine the best place for dehumidifier installation so that it will have the maximum impact on the comfort of your home.
We will take the time to determine the right size dehumidifier for your needs and offer products that best meet your needs, goals, and budget. Once we've decided where to install it and what type of dehumidifier is best, we'll return a second time for dehumidifier installation. We work as efficiently as possible and try not to disrupt your normal home routine. If we make a mess, we clean it up. Once the dehumidifier is installed, we'll fully inspect and test it to confirm it works. Then we'll go over the operating process with you and care and maintenance. We also offer dehumidifier inspections, cleaning, maintenance, and repairs.
Best Residential Dehumidifier Services in Maryland
 We pride ourselves on offering the best residential dehumidifier services in Maryland and surrounding areas. When you choose our team at Budget Basement Waterproofing for your dehumidifier installation, we'll give you our honest opinion about the services you need and how they will benefit you. We will never try to sell you a service or product you don't need. We can walk you through all the benefits of a residential dehumidifier installation or whole-house dehumidifier installation so you can see exactly how it will make your home more comfortable. Our crawl space dehumidifier and basement dehumidifier installation will protect your basement from water damage, mold, and mildew growth.
Call Today for Dehumidifier Installation in Maryland
 If you're ready to get a free estimate for residential dehumidifier installation in Maryland, call us today at Budget Basement Waterproofing. Our whole-house dehumidifier installation will reduce humidity levels, improve indoor air quality, reduce allergy and asthma symptoms, and lower dust levels in your home. Call us today or fill out our online contact form to request a free estimate for the cost of dehumidifier installation.
Call Today for Expert Basement Waterproofing Services!