Skip to Content
Mold Remediation Services in Maryland
Most homeowners believe water is the only threat of a damp basement. Water certainly can seep into or expand cracks and attract insects or rodents into the basement or crawlspace, but there's another serious threat that's even harder to fully remove. It's often easy to forget that with water comes mold, often within a day of moisture invasion. Mold is so invasive and fast-growing that you'll want to turn to the professionals at Budget Basement Waterproofing to fully remove mold and mildew before they lead to allergy and respiratory hazards for your family.
Protect your family and home through proper treatment from Budget Basement Waterproofing. We can help prevent any damage or disruptions to your foundation, as we're one of the highest-rated mold removal companies in the industry. We'll use advanced mold testing to determine if your house contains mold. Our team of trained, bonded, and licensed waterproofing contractors are dedicated to keeping your home safe and dry at a price you can afford. Contact us for a free estimate and find out why we've been awarded the Angie's List Super Service Award for six years running!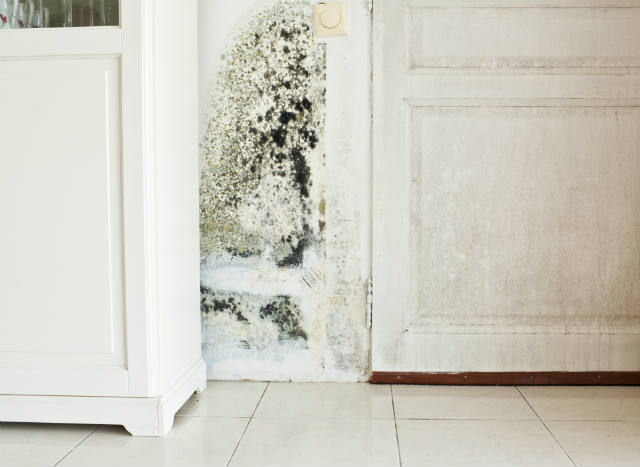 Watching for the common causes of mold in your home
You should always be aware of some of the most common ways mold can enter and spread throughout your home and take steps to minimize risk wherever possible. This includes noticing factors such as:
High humidity (above 50%)
Poor crawlspace ventilation
Too many houseplants
Leaky roof
Flooding
Water/pipe leaks
Find out more about inspecting your home for warnings signs by visiting the Do You Have Mold? page.
Three reasons to hire professional mold remediation specialists
To protect your family's health and comfort, it's important to remove mold as quickly as possible; unfortunately, DIY jobs are rarely effective. Molds often require specialized solutions. Bacteria breeds in damp areas and can lead to health issues, and it will grow back if not completely removed. Here's why you should always call Budget Basement Waterproofing.
Thorough Mold Removal – Mold is tricky to contain and even harder to remove completely. If you attempt to get rid of mold yourself, you'll battle the same mold infestation over and over again. We use industry-leading tools and chemicals to remove every trace of mold from inside your home, so the sooner you hire professional mold remediation experts, the sooner your home will be mold-free.
Proper Safety Equipment – Depending on the type of mold growing inside your home, the health impact of mold exposure can range from allergic reactions and respiratory infections to more severe health problems. In some cases, mold exposure can even be fatal. Mold remediation professionals have the proper safety equipment to remove mold without endangering your family's well-being.
Future Mold Prevention – Another benefit of bringing in our mold professionals is that we can identify problem areas and risk factors in your home that cause mold in the first place. Our experienced team can then recommend services that will prevent future mold problems, such as basement waterproofing, foundation repair, roof repair, and installing additional ventilation.
Call Today for Expert Basement Waterproofing Services!