Skip to Content
BASEMENT WATERPROOFING: FACT VS FICTION
BASEMENT WATERPROOFING: FACT VS FICTION
We had some really wet weather so far this year, from all of the snow in the winter to rain almost every week this summer. If there's ever been a time that you're likely to need basement water damage repair in Maryland, it's probably now.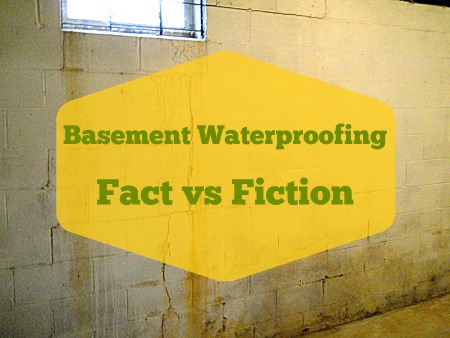 Some may be reluctant to call in a basement waterproofing company because you have never used one before or are skeptical about the waterproofing process.
We'd like you to get the help you need before your basement suffers any more damage. So let's set the record straight and take a look at the real facts about basement waterproofing in Maryland.
Fiction: Basement waterproofing is always a long, involved process that will involve hiring a company that will dig up my foundation and will cost more money than it's worth.
Facts: A reputable basement waterproofing company in Maryland won't make assumptions about what needs to be done, but will visit your home and make a careful assessment to determine the best solution to your moisture problem. A wet or damp basement frequently can be traced back to:
Missing or leaky drain spouts that are channeling water from the roof too close to the foundation.
Ground or shrubbery beds that butt up against the house and are graded incorrectly so that they bring water towards the foundation walls instead of away from them.
Improper window wells that slope downwards and funnel water into the basement wall.
Sump pumps that aren't working properly.
Inadequate or improper venting of appliances such as dryers.
Beware of any waterproofing "expert" that immediately launches into a sales pitch for waterproofing services without inspecting around the outside of your home for these problem areas.
Fiction: All cracks in basement walls have to be fixed from the outside.
Facts: Cracks are often a source of water seeping into your basement, so a waterproofing company will want to address them. But with today's new technologies, some small, non-structural cracks can actually be fixed from your basement's interior. Technicians can inject sealants that will expand to fill the space and provide a tight seal once again.
If the cracking in your basement walls is extensive, however, or if you have moisture seeping in through porous and/or aging walls, tackling the problem from the outside in might be necessary. This could involve the repair of cracks and the installation of a waterproofing membrane around the exterior of the building.
Fiction: Painting over a moldy basement wall with waterproofing paint will solve my moisture problem and my mold problem.
Facts: Sorry, but no. All you're doing is temporarily hiding the problem—and that's something that you don't want to do when it comes to mold, because it's a more serious problem than you may realize.
According to the U.S. Centers for Disease Controls, mold that grows inside a home can cause nasal stuffiness, eye irritation, wheezing or skin irritation. It's also been linked to asthma symptoms.
While you can temporarily stop the spread of mold by cleaning it up with bleach (a smelly and difficult job to do on your own), if you don't address the underlying moisture problem that's causing the mold to form on basement walls it will reappear once again. That's why it's so important to get professional help when it comes to ridding your home of the wet basement walls that cause mold.
Fiction: When it comes to choosing a company to handle your basement water damage repair in Maryland, I can just do a quick Google search because they're pretty much all the same.
Facts: There are fly-by-night companies in any profession, and when it comes to something as important as your home and your family's health you can't be too careful. So if someone approaches you and wants to sell you basement waterproofing services, or if you choose a company from an online search, be sure to ask them:
How long have you been in business?
What is your MHIC license number? What company provides your insurance?
Do you belong to any professional associations?
What is your rating from the Better Business Bureau?
Can your business be found on Angie's List? What is your rating there?
Can you provide me with references from people in my general area who have used your services, and phone numbers so that I can contact them? (Be sure to follow up on these referral phone calls—you can learn a lot about how the company does business by talking with previous customers.)
Be sure you're comfortable with the waterproofing company that you choose. Budget Waterproofing will be happy to answer any of the above questions for you and even clarify any other grey areas of the waterproofing business.